Striking a Balance: How Technology is a Force for Connection, in Moderation
From tracking our steps (for a healthier lifestyle) to tracking our every location (leading to mistrust of location-based advertising), technology is one of the most influential, most complicated forces in our lives.
That's why a measured representation of technology is more important than ever. That means showing how it connects consumers—think heartwarming video chats. But it also means depicting tech safety and privacy—such as brands taking a stand against cyberbullying. Read on for key insights into how to strike this balance, and what that could look like in your creative.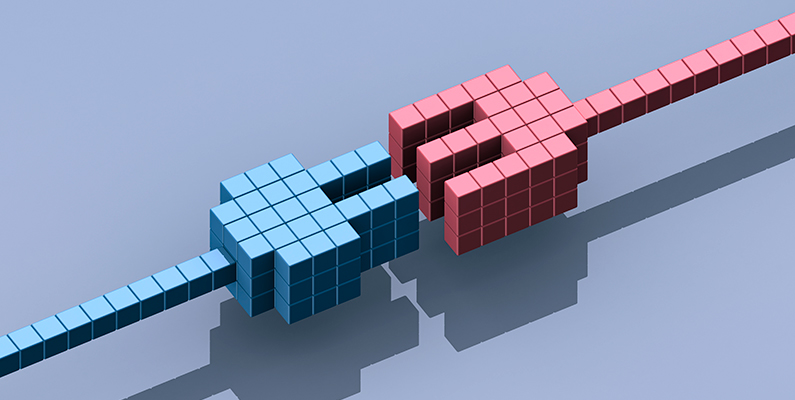 Why Technology Matters to Consumers
"Of all the driving Forces in people's lives today, Technology is arguably the one that creates the greatest amount of dynamic tension."

– The Getty Images Creative Insights Team
Technology brings consumers closer to loved ones, closer to their goals, and in many cases closer to financial success. According to the in-depth consumer research we conducted as part of our Visual GPS report, 97% of people say tech make them feel connected. But it goes beyond that.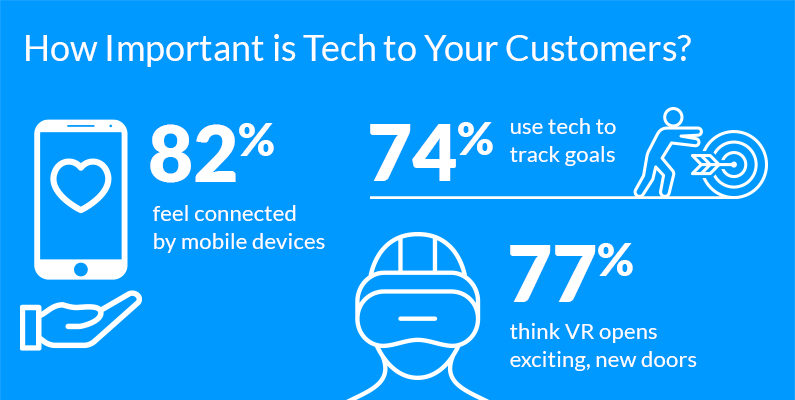 Whether it's the eight in ten people who feel more connected thanks to their mobile devices or the nearly three-quarters of consumers who use tech to reach their goals, it's clear that technology isn't just a source of utility—it can be a source of inspiration. So, showing how technology fits into your customers' social lives, but also their self-care plans, can be a powerful way to connect in your work. We'll show you what that looks like later, but first we have to examine the flipside of this coin.
Why Technology Makes Consumers Concerned
Technology has become so ubiquitous in our lives that we sometimes take it for granted—and forget that many consumers feel overexposed and under-protected. But more than that, technology creates significant dissonance because the same people who say it inspires them to be better and accomplish more, also think it can be hurtful to their relationships and exploitative of their accomplishments. In short, people don't only value tech greatly, they also distrust it.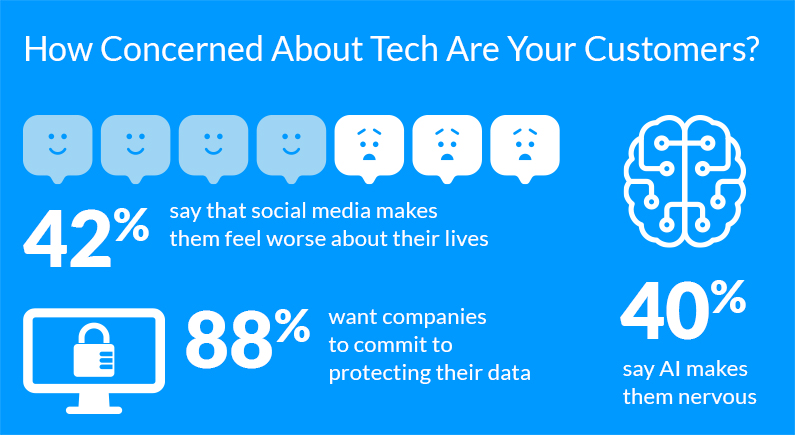 It's clear that technology is a complicated issue. People are excited about the advancements of technology like Artificial Intelligence, but they're also weary of it. People want to harness technology to achieve their goals, but don't want to be reliant on it or addicted to it. This means that as a brand, it's not as simple as showing people excited to use their phones or athletes using tech to augment their workouts. You have to be mindful of how you're showing tech, for the good and for the bad.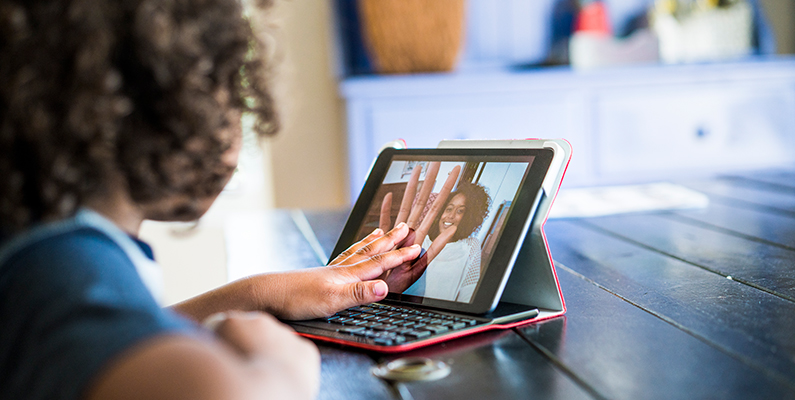 How to Harness This Power in Your Projects
The key to showing technology effectively in your creative work is to strike a balance between what inspires your customers and what they want to be cautious of. Here's what that looks like.
Show technology at the center of our lives
Whether it's an image of a student immersing themselves in their education with a tablet or a hiker using their phone to capture their summit moment, many of life's moments now feature tech. Our team put together a gallery of imagery that effectively shows technology's inspiring role in our everyday life.
Show how technology brings people together
Technology is seen not only as a way to connect the dots and deliver information, but also as a way to connect us to those we love. Check out a gallery of interesting, creative ways to depict that connection, or start with a set of images that shows the human connection of tech.
Show AI in a way that inspires
When it comes to tech that's so cutting-edge it borders on concerning, it's important to show the right kind of image. Our creative team has put together an Artificial Intelligence-focused gallery that aims to show the value of this emerging tech, while balancing its stigma.
Show cybersecurity in equal parts
If you're planning to put technology's positive side front and center, it's important to have imagery and creative that also shows that your brand is cognizant of your customers' security concerns. Check out this gallery depicting cybersecurity.
Check out the full Visual GPS report to read more about Technology and get key insights on other forces your customers care about like Sustainability, Realness, and Wellness.

866481488, wonry | 1156105482, Jorg Greuel | 516014572, Portra