Introducing: Visual GPS
Have you ever wondered what your customers really care about? If you've created marketing materials or launched an advertising campaign, you most certainly have. And you've likely searched for the images, videos, or illustrations that match those cares and concerns. Where do you turn when you need to find this often elusive information to help you select the imagery that connects?
Developed with creative challenges in mind, Visual GPS navigates through the crowded visual landscape, showing you what's important to today's consumers, what kind of visual content engages them, and, ultimately, what leads them to make decisions. Building on our 25 years of visual trend experience, we've partnered with global market research firm YouGov to get quantitative insights to reinforce the industry-leading research and reporting from our Creative Insights team. It's a smarter way to think about—and select—visual content, helping you understand what will connect with your audience, why it will be effective, and how it takes your visual storytelling to the next level.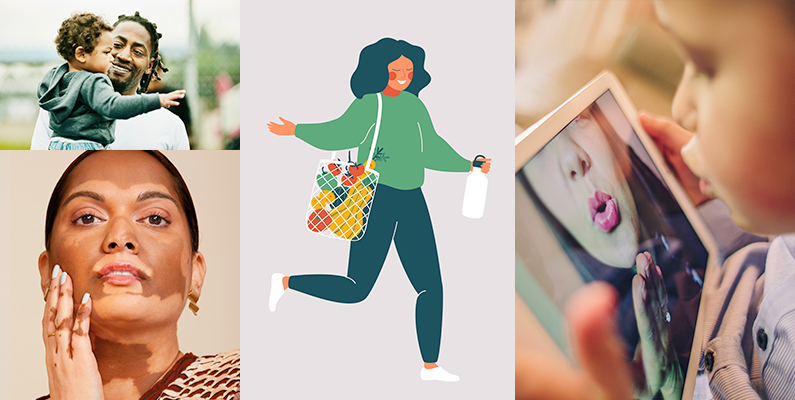 It's Not Just Another Trends Report—Our Multi-Faceted Approach
Don't get us wrong—trend reports are great. At Getty Images, we publish them all the time. But today's data-driven world demands we look at visuals through a more quantifiable lens. That's why we added a new dimension to our research and reporting. With our initial Visual GPS Global Report, you'll get:
1. Insights and Visual Analysis from the Best in the Business
As an industry leader for the past 25 years, we've been a go-to source for visual insights, award-winning photojournalism, and creative visual storytelling. Through a combination of interviews, observations, and visual analysis, our Creative Insights team—made up of artists, curators, archivists, futurists, art directors, and visual experts—provide a global view of visual communication across all industry sectors and media and a unique view of how visual content is created, displayed, and consumed.
2. Search and Sales Data from gettyimages.com
Our proprietary data, from over 1 billion searches annually, gives us the hard numbers behind what kind of visual content is being searched for and purchased, verifying with metrics what our global customer base of over a million creatives finds effective.
3. Quantitative Market Research from YouGov
Surveying over 10,000 consumers and professionals in 13 languages across 26 countries—the largest study of its kind—we confirmed our internal findings, adding data-backed context around what's important in the marketplace and what influences people's behaviors, decisions, and experiences.

Meet the Forces
What we found in our first round of research were several factors, including attitudes and behaviors, that inform and impact decision-making. We're calling them Forces because we've found that they're a powerful influence on the way people behave. Our initial Global Report introduces you to these four initial Forces:
  WELLNESS
  TECHNOLOGY
  SUSTAINABILITY
  REALNESS
Each section of this report will help you better understand what defines each Force, what people care about, how they behave, and why it matters to your next campaign. Then we take it a step further by exploring how the Force is being expressed and share examples of how the creative teams behind Getty Images and iStock have used this knowledge to create content—with search terms and links to let you explore even further.
Strong marketing and advertising materials start with one thing—the needs of your customers. And whether it's B2B or B2C, images, videos, and illustrations that connect with consumers are key to breaking through in a world that bombards them with messaging. Visual GPS is here to help you drive your message right to your target audience, whoever they are and wherever they may be.
To read the full Global Report, visit visualgps.com.
1147367832, Adolescent Content/Nhi Nguyen | 889725188, Thomas Barwick | 1129849064, pixdeluxe | 968363506, Colormos | 1173678068, Thomas Barwick | 1141301515, Lara Callahan / Refinery29 for Getty Images | 1175986555, Ponomariova_Maria | 526302783, Sally Anscombe | 1085839836, Joana Toro | 938464868, SolStock | 1176899252, nadia_bormotova | 933712046, © Marco Bottigelli | 1176980482, veronawinner | 1168633955, Muzyka Daria | 1159447883, Avector | 1137062696, Yutthaphan